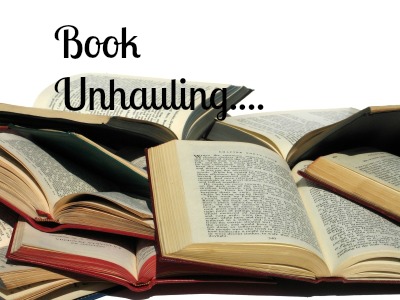 Good Morning and welcome to the August Book Unhauling post. Its hard to believe we are already in at the end of August and beginning September very soon.
I decided in January that I wanted to document how many books I was giving away each month to see if I was making any kind of dent in my book collection. As of right now it seems like I am buying more then I am unhauling but at least its making me aware that I am reading and passing my books along which is a good thing. Right?
Although I think next year (January 2016) I need to document monthly my book haul purchases, that might be the thing that could scare me and stop myself from buying so many books each month because realistically I add them to my well mailbox post and I never give it a second glace and don't really see it but  perhaps at a months glace it could be an eye opener. Something to think about right? Would you like to see a monthly post of the whole stash of books I buy or in the mailbox post good enough? Perhaps both?
Are you a constant book buyer? Can you resist buying books on a weekly bases? Please tell me I am not alone in this?
Sadly this month I have nothing to give away/donate because things in real life happen and I honestly haven't felt the urge to pick up a book in read and in all honesty I have tried and it seems like I am reading the same page over and over again and nothing is registering.
Total of books given away so far is 113.