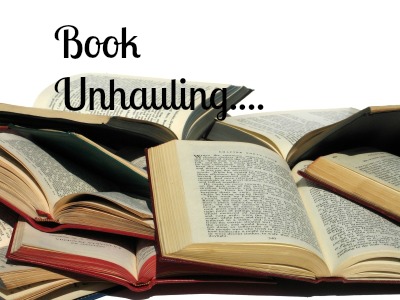 Good Morning and welcome to my June Book Unhauling post.
I decided in January that I wanted to document how many books I was giving away each month to see if I was making any kind of dent in my book collection. As of right now it seems like I am buying more then I am unhauling but at least its making me aware that I am reading and passing my books along which is a good thing.
Perhaps next year I need to document monthly my book haul purchases, that might be the thing that could scare me and stop myself from buying so many books each month because realistically I add them to my well mailbox post and I never give it a second glace and don't really see it but  perhaps at a months glace it could be an eye opener. Something to think about right?
So here is what I unhaulded this month:
Olive & Beatrix: The Not so Itty Bitty Spider (this was a BEA book that I passed to my friend)
Where's Walrus & Penguin (another BEA book that I passed onto my friend)
Even Monsters Say Goodnight (another BEA book that I passed onto my friend)
Harry Potter & The Sorcerer's Stone (another BEA sampler that I passed to to my friend)
Magnus Chase & The Gods of Asgant (a BEA sampler that I passed along to a friend)
Dancing Through Life by Candance Cameron Bure (a BEA book that I passed along to a friend)
Unslut (a BEA book that I passed along to a friend)
This is Where it Ends (BEA book that I passed along to a friend)
Someone Else's Love Story by Joshilyn Jackson
The Wonder Bread Summer by Jessica Anya Blau
Two Lies and a Spy by Kat Carlton
The Book of Someday by Dianne Dizon
The Time Fetch by Amy Herrick
Roxy's Story by V.C Andrews
Awake by Natasha Preston (BEA Book that I am passing along to a friend)
Devilish by Maureen Johnson
Meeting Mr. Wrong by Stephanie Snowe
Confessions of a Beauty Addict by Nadine Haobsh
Sleepwalking in Daylight by Elizabeth Flock
The Unit by Ninni Holqvist
The Pretend Wife by Bridget Asher
A Match Made In High School by Kristin Walker
Thea Stilton and the Dragon's Code
The Girl On The Train by Paula Hawkins
*All the BEA books in the beginning have been read and reviews are scheduled to post on release date of the books.
So today I have released  24  books and my total to date is 113 books. I am slowly making progress.
Do you have a hard time passing your books along?