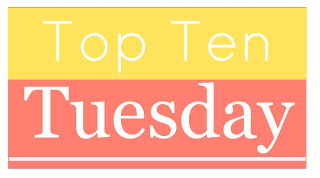 Top Ten Tuesday is an original feature/weekly meme created over at

The Broke and the Bookish

. This feature was created because they are particularly fond of lists over at

The Broke and the Bookish

. They love to share their lists with other bookish folks and would LOVE to see your top ten lists!

Each week they will post a new Top Ten list  that one of their bloggers at

The Broke and the Bookish

will answer. Everyone is welcome to join. All that they ask is that you 

link back

 to

The Broke and the Bookish

on your own Top Ten Tuesday post AND add your name to the

Linky widget

so that everyone can check out other bloggers lists! If you don't have a blog, just post your answers as a comment on their post. Have fun with it! It's a fun way to get to know your fellow bloggers.
Today's top is Top Ten Blogging Confessions
Its been quite a while since I have take part in a Top Ten Tuesday and I love today's topic so I thought I would share my Top Ten Blogging Confessions.
I still get excited when I see a package hanging out of my mailbox, between the doors or when a delivery guy rings the bell to hand me a package. Its been six years and this feeling never gets old.
I wish I could be more creative and come up with fun and exciting things for my blog. It feels like I come up with a good idea and then when I go searching someone else is doing it.
I was pretty good and reading then reviewing right away but once I knew school was ending I slipped and now I am behind in my reviews. Why does this happen?
I can't go into a book store and leave without buying something.
I have way too many books in my TBR that its a little embarrassing when family and friends come over. There is a huge pile in the corner and my book cases are double/triple stacked and thats not even including the boxes (numerous) that I have in my basement and my cedar chest is completely full…
I only make use of the public library in the summer because we are there so often for various library activities for my son. The rest of the year I am lazy about returning books and then I usually get late fees.
I have yet to read the really popular books that everyone is talking about for fear I won't enjoy them as much. Examples are The Fault in Out Stars, The Lunar Chronicles, The Chemical Garden, and so many others.
I love my blog and sharing my thoughts but at times I wonder if anyone is really reading what I write? I see that people are coming to my blog because of the page views.
I sometimes bite off more then I can chew when it comes to books, tours etc I often over book myself and don't realize it until I sit to prepare the blog for the following week.
My final confession is jealousy. I am sure you can relate to this… I am okay with the books that bloggers get because if I see something I really want then I add it to my wishlist to purchase when it comes out, I am talking about all the opportunities some bloggers get such as getting to meet authors at events and interview them one on one, getting to take part in publisher events at their offices etc. I am lucky enough that when I go to BEA to take part in a event here and there and for those I am very thankful for. I think it has to do with the feeling of being a blogger for six years and just wanting to have something to show for it. Does that make sense? Perhaps its due to my location.
So that is my Top Ten Blogging Confessions, do we share the same ones?