In My Mailbox and Mailbox Monday's are weekly meme's where you let your readers know what you got in your mailbox the previous week.
Kristi is the host of In My Mailbox and Marcia is the host of Mailbox Monday. You can see what they and others got by checking out their posts.
This is what came to my door this week:
Make Ahead Meals for Busy Moms by Jane Doiron. (PUB DATE: August 2009) This is for an upcoming book tour. Looking forward to digging into this one, looks like alot of great recipes.
Is anyone else a part of this tour?
Medina Hill by Trilby Kent (PUB DATE: Oct 13th/2009). This is for an upcoming tour with Tundra Books. I am touring this book Nov 3rd.
From the list I got I see a few blogs that I visit on this tour too.
The Postmistress by Sarah Blake (PUB DATE: Feb 2010) This is for the B&N October First Look Book Club.
Don't you just love the cover for this one?
Is anyone else reading this book for B&N First Look?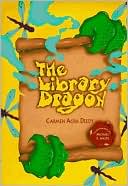 The Library Dragon by Carmen Deedy & Illustrated by Michael P. White (PUB DATE: Oct 1994) This was a win from Twitter. Michael White was in the Peachtree offices and a rep for Peachtree had asked to name another book Michael illustrated and I said this one and I won it.
What to know a great thing about this book? Not only did Michael White sign it but so did Carmen sign it. 🙂
I also got Where the heart was by Glenn G. Boyer (PUB DATE: November 2009) and the bookcase which I am sure you already know about and read my review for it.
This is what I got, what did you get?
copyright 2010, Cindy (Cindy's Love Of Books)
If you are reading this on a blog or website other than Cindy's Love Of Books or via a feedreader, this content has been stolen and used without permission.