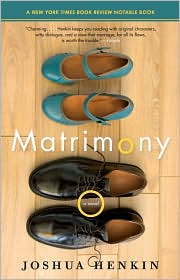 During my conversations with Joshua he mentioned to me about offering a signed copy of Matrimony to one of my lucky readers. So here it is up for grab 1 signed copy of Matrimony. The contest will end Oct 24th @ 11:59pm. If you are interested in getting a copy please leave a comment here. For an extra entry you can comment on my review which is HERE . Good luck everyone.
Please note that its Us and Canada mailing addresses only.
copyright 2010, Cindy (Cindy's Love Of Books)
If you are reading this on a blog or website other than Cindy's Love Of Books or via a feedreader, this content has been stolen and used without permission.