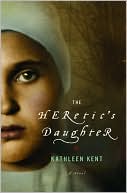 This is just a reminder that Miriam will be live online talking to the author of Heretics Daughter, Kathleen Kent at 1pm ET on October 29, 2008.
You can listen to the interview here:
www.blogtalkradio.com/stations/HachetteBookGroup/LittleBrown/2008/10/29/Interview-w-Kathleen-Kent-author-of-THE-HERETICS-DAUGHTER-a-novel-about-the-Salem-Witch-Trials
Thanks to Miriam and her generous offer I will be giving away 1 copy of the book Heretics Daughter. The contest will end October 31st at Midnight. Comment in this post and please leave an email addy so that I can contact you. Happy Halloween!
*Please note that this is only a Canadian and US giveaway and no PO Boxes.*
Please leave a email address that I can contact you if you win. There are a few that entered that I have no way to contact. This is very important!
copyright 2010, Cindy (Cindy's Love Of Books)
If you are reading this on a blog or website other than Cindy's Love Of Books or via a feedreader, this content has been stolen and used without permission.